Akemi Triple Effect Spray 500ml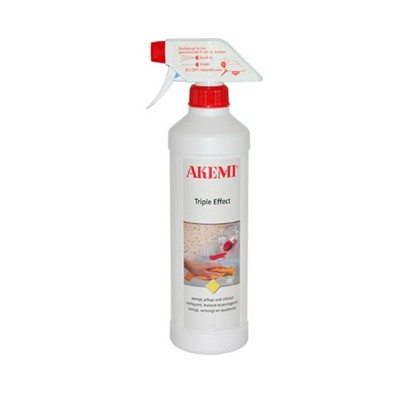 Tech sheet for AKEMI TRIPLE EFFECT
Akemi Triple Effect is suited for the regular cleaning, care and protection of absorbent, fine ground or polished natural and cast stones (such as marble,granite and concrete ashlar) in one operation on window sills, tables, kitchen worktops or other small areas.
Highly effective stone care and impregnation spray. Contains modified organic compounds, combined with cleaning components which do not form layers. Natural fresh odour. Foodsafe (tested by LGA Nuremberg).Pump spray for the regular care and protection of fine ground and polished natural and artificial stones (such as marble, granite and concrete ashlar).
What is the Trple Effect?
Three effects are achieved in one single operation:
deep cleaning;
water- oil- and grease repellent protection;
restores lustre.
The Only Stone cleaner of its type with sealing properties.
Akemi Triple Effect Spray 500ml x 2
OFFER SAVE ££££